112 EDUCATION FOUNDATION YEAR IN REVIEW 2019-20
Community Support
This spring, as the COVID crisis derailed the Foundation's scheduled programs and events, the trustees nimbly shifted our focus away from traditional Foundation programs, and sought alternate opportunities to support our community.
Aligned with its mission of supporting educational opportunities for students in D112, the 112 Education Foundation provided over 300 learning supply kits to students in the district. These kits, which contain essential supplies for remote learning such as scissors, paper, tape, markers, and crayons, support learning for students who do not have access to such supplies and the internet.
Additionally, the 112 Education Foundation was proud to partner with the Family Service of Lake County's Nuestro Center in Highwood to support NSSD112 students and families during this challenging time. The Foundation donated $12,000 to the Nuestro Center to provide food and household supplies to families in our community.
FUNd Run 2019
The FUNd Run was held on Saturday, October 5, 2019 on the grounds of beautiful Ravinia Festival. It was a clear morning and perfect for District 112 friends and families to come together as a community to support so many of our students. We had a strong showing of nearly 1,500 participants this year for both the 5K and 1-mile family walk. There was plenty of school spirit in the air as families mingled with teachers, principals and other district leaders. The Highland Park High School boys and girls cross country teams also helped at the event by acting as race marshals throughout the morning. The post-race fun fair was exciting for all with sponsor kiosks and plenty of food and refreshments. District 112 Superintendent Dr. Lubefeld was there to offer words of encouragement and to hand out medals to all of the age group race winners. Shortly after race day, it was announced that Braeside School won the trophy for highest participation! There were also many schools that significantly increased their participation numbers. Way to go, District 112! Overall, the FUNd Run committee raised over $30,000 through race registrations and sponsorships that went directly to provide need-based scholarships for District 112 students. The committee is already actively planning the next FUNd Run for Saturday, October 3, 2020. Whether it be in person or virtual, we hope you can join us!
iRead 2020
iRead 2020 was a huge success! The program kicked off on January 11 at the Highland Park Library for the annual iRead Kick-Off event. Over 1000 D112 students and family members gathered at the library to rub elbows with local authors, be entertained by a professional storyteller, and best of all, hear favorite teachers read out loud.
After almost a month of recording reading minutes, and many fun iRead-related school events, iRead ended with Ravinia Elementary School winning for the second year in a row. Students at Ravinia read an average of 1485 minutes per student during the event. The Raccoons smashed the iRead record they set last year of 1156 per student. As is tradition for the iRead event, the school principal and the school librarian planned a top-secret trophy reveal presentation to announce the victory to the staff and students.
This year the K-6 students in D112 read for a combined 1,688,726 minutes between January 11 and February 3. That's 636 minutes per student! This year's read-a-thon also raised over $22,000 to support the 112 Education Foundation's Author Visit program.
Foundation Grants
For the 2019-2020 school year, the 112 Education Foundation approved 40 grants totaling over $75,000. We had programs that reached every school, and ran the gamut from art, poetry, STEM and community service!
Grant programs included:
Architecture education and kits for students at Green Bay School
STEM bins for students at Indian Trail school
The Day of Giving service-learning experience at Northwood Junior High
A cooking program for students in the SAIL program at Braeside school
Multiple music, art and performance-related grants provided interdisciplinary opportunities for students to combine curriculum areas
While some of the spring grant programs did not run due to the suspension of in-school instruction, we look forward to supporting these great experiences when we are all back together in the 2020-2021 school year.
Ravinia Music Partnership
Unfortunately, due to the school closure in March, the two Ravinia concerts, scheduled for late April, were canceled. Additionally, the annual Kids Go Classic concert was not scheduled because of the Ravinia summer season cancellation.
The 112 Education Foundation remains grateful to the Ravinia Reach*Teach*Play education programs for its support of music education for students in D112. We value our partnership and look forward to future performances.
Robot Revolution Robotics Competition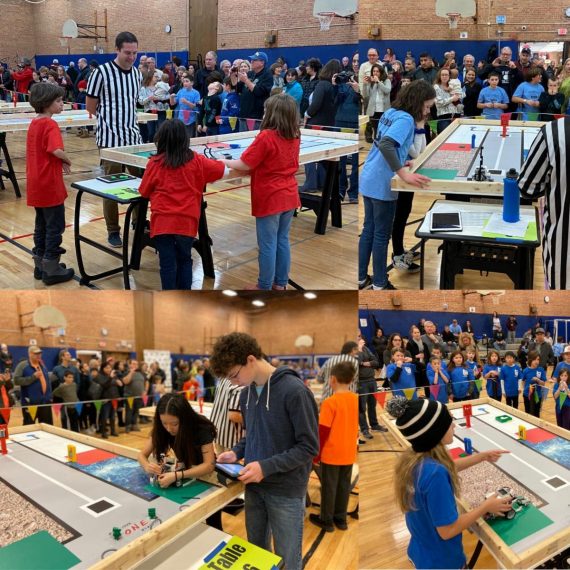 This year marked the fourth year for the Robot Revolution robotics program, and its first year as a signature Foundation event. Nearly 250 students, representing every school in the district, competed in this day-long event on a Saturday in December. Student teams worked to successfully program their robots to achieve various challenges. Red Oak'sThe Two Engineers finished first in the elementary division, and Northwood's Chicken Leg Piece team won the top spot in the middle school division. The Wayne Thomas Robocats team finished second and the Red Oak Fireball 2 team finished third at the elementary level, with the Northwood The Elephant in the Room team and the Edgewood Rescue Bots getting second and third place respectively for the middle school group. A special thank you to the numerous teacher-coaches across the district who make this an amazing Foundation program.
Vehicle Sticker Upgrade Program
Historically, the cities of Highland Park and Highwood offered residents an option to upgrade their vehicle sticker by making a donation to the 112 Education Foundation. The proceeds from this opportunity provided the Foundation its largest sources of revenue. We are grateful for both cities' historic support of the Foundation through the vehicle sticker program. However, with the recent decisions to discontinue vehicle stickers, the Foundation's primary source of funding has been eliminated.
The generosity of the Highland Park and Highwood communities was essential to the growth of the grants program and signature Foundation programs, such as the Robot Revolution robotics program, The Reel 112 Film Festival, Author Visits and Foundation Grants in every D112 school. At this time, we need your help.
Please contact Susan Kaden if you have ideas about new sources of revenue. We also encourage you to donate to our summer campaign to help ensure that we can continue to deliver the high-impact programs that are the hallmark of a top-tier school system.
Junior Trustees
The Foundation is excited to welcome two new Junior Trustees to its team, HPHS junior, Tanan Jigd, and HPHS sophomore, Bailey Byrnes. We also recently said goodbye to Lauren Twadell, whose two-year term ended in May. Lauren was an incredible asset to the Foundation during her time with us. She regularly contributed during meetings and was valuable support at our events and programs. Lauren provided an important perspective and energy to every aspect of the Foundation's work. Additionally, she did a fabulous job providing Spanish translation for all Foundation communications. We wish Lauren the very best as she starts at the George Washington University this fall.
Reel 112 Film Festival
With great disappointment, the 112 Education Foundation was unable to host its annual Reel 112 Film Festival in May. Films created by Edgewood and Northwood students that were scheduled to appear in this year's festival will debut at the 2021 Reel 112 Film Festival. Additionally, the Foundation will introduce its new Milos Stehlik Legacy Award for excellence in filmmaking, in memory of our friend and supporter, Milos Stehlik, at the May 2021 event.
High Five A Teacher program
The 112 Education Foundation launched a new fundraising campaign in the spring of 2020. The High Five A Teacher program allowed students and families to send a virtual High Five to a teacher. To purchase a High Five, families made a donation to the Foundation in the teacher's honor, and included a personal message. Teachers received notification that they were "High Fived" along with the note from the students.
The program was a huge success. In its first year we sold over 100 High Fives and raised over $2500. The Foundation also received wonderful feedback from teachers who loved the program and appreciated receiving grateful messages from students at the end of the year.