Reel 112 Film Festival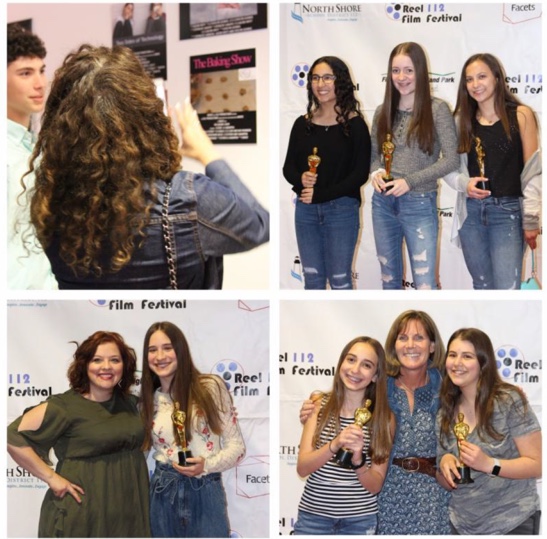 The Foundation's fourth annual Reel 112 Film Festival took place on Monday, May 6 at the Landmark Renaissance Place Theatre in Highland Park. This year's festival showcased 12 student films created by students at the two middle schools. After the screening, student filmmakers participated in a panel discussion with a Facets staff member where they shared their filmmaking experiences. Festival attendees were also treated to a private screening of a critically-acclaimed foreign language movie short after the student panel finished. Celebrity film critic, Milos Stehlik of Facets, opened the program with a recorded greeting to the crowd. There was also a video welcome from Congressman Brad Schneider. Representative Schneider provided signed letters of commendation for each filmmaker. The Reel 112 Film Festival allows the student filmmakers to showcase their films and movie posters, walk the red carpet, and pose for photos with replica Oscar statues.
A team of talented Edgewood filmmakers, whose film "Half Mast" tackled the issue of gun violence, was selected to the Hollywood Dreams Film Festival. "Half Mast" debuted on August 2 in Las Vegas as one of five finalists in the "Political Short" category. Congratulations to Evelyn, Jacob and Spencer, and their teacher, Elaine Allison.
We are also deeply saddened by the loss of Milos Stehlik, the founder of Facets and a dedicated supporter of the Reel 112 Film Festival. Milos passed away in early July after a six-month illness. Milos played a crucial role in establishing our film festival and helping to strengthen the middle school CMA curriculum. We are grateful for Milos and his impact and influence on the Reel 112 Film Festival and our young filmmakers.
FUNd Run 2018
The FUNd Run was held on Saturday, September 29, 2018 on the grounds of beautiful Ravinia Festival. It was a crisp, sunny morning and perfect for District 112 friends and families to come together as a community to support so many of our students. We had a strong showing of nearly 1,500 participants this year for both the 5K and 1-mile family walk. There was plenty of school spirit in the air as families mingled with teachers, principals and other district leaders. The Highland Park High School boys and girls cross country teams also helped at the event by acting as race marshals throughout the morning. The post-race fun fair was exciting for all with face painting, sponsor kiosks, sports massages and plenty of food and refreshments. District 112 Superintendent Dr. Lubefeld was there to offer words of encouragement and to hand out medals to all of the age group race winners. Shortly after race day, it was announced that Braeside School was the trophy winner for the highest participation! Overall, the FUNd Run committee raised $30,000 through race registrations and sponsorships which went directly to provide need-based scholarships for District 112 students. The committee is already actively planning the next FUNd Run for Saturday, October 5, 2019. We hope to see you there!
iRead 2019
Over 1000 students and parents attended the iRead kickoff in January 2019 at the Highland Park Library. This year Ravinia Elementary School won the coveted iRead trophy. Ravinia students averaged 1100 minutes of reading each over the four-week competition. Overall the elementary students recorded a combined total of 1,480,000 minutes and raised over $25,000.
Foundation Grants
The 112 Education Foundation approved 17 grants totaling over $22,000 for the 2018 fall grant cycle. During the spring grant cycle, the trustees approved nearly $44,000 of grants, including two sets of electric instruments to be used by the middle school orchestra students and various service-learning activities across the district tied to the WE Schools organization. Other grant programs included:
an incredible musical production at Red Oak School
an opportunity for middle school students to engage with and learn from two young men who were Lost Boys from Sudan
the implementation of the Day of Giving at Northwood Junior High
an art therapy program for students at Green Bay School
multiple music, art and performance-related grants provided inter-disciplinary opportunities for students to combine curriculum areas
Ravinia Music Partnership
Each year, Ravinia's Reach*Teach*Play education programs partner with the 112 Education Foundation, bringing nationally acclaimed Ravinia teaching artists to work with the Highland Park middle-school music students. Rising star Kedrick Armstrong led all 6th–8th grade orchestra students in pieces celebrating the 100th birthday of the great American composer, conductor, and educator Leonard Bernstein. Mr. Armstrong, along with the celebrated Kaia string quartet and bassist Roland Moyer, worked with the students at each of their schools through daylong residencies to prepare students from Edgewood and Northwood for a rousing final performance at Ravinia on Friday, April 26, 2019.
In addition to the middle-school residencies, all 4th and 5th-grade students attended a Ravinia Guest Artists in the Classroom performance by world-class artists WindSync on February 12th at Bennett Gordon Hall. WindSync, a dynamic music education group from Houston, Texas, introduced students to the five instruments of the wind quintet through music from Aaron Copland's "Hoedown." Students also explored the mambo and cha-cha dance rhythms with selections from Leonard Bernstein's West Side Story. The program concluded with a lesson about the complex rhythm patterns in Maurice Ravel's "Bolero."
The yearly partnership concludes with the annual Kids-Go-Classic concert at Ravinia. Kids-Go-Classic offers free lawn passes for District 112 families to attend a Chicago Symphony Orchestra concert, celebrating the One Score, One Chicago selection, at Ravinia. The 2019 Kids Go Classic concert was Lenny: A Musical Portrait in Symphony, Song and Story with the Chicago Symphony Orchestra on July 27th.
Robot Revolution Robotics Competition
The third annual Robot Revolution robotics competition was held on December 15. Over 200 students, representing every school in the district, competed in this day-long event. Student teams worked to successfully program their robots to achieve various challenges. The Braeside Meteorbots finished first in the elementary division, and the HP Library Cherry Pi Nerds won the top spot in the middle school division. The Wayne Thomas teams finished second and third at the elementary level, with the Edgewood Platypus Wafflebots and the Northwood Powerpuff Boys getting second and third place respectively for the middle school group. A special thank you to Northwood STEM teacher, Bill Steinbach, for organizing this amazing Foundation Grant program.
After funding the Robot Revolution through its Foundation Grant program for three years, the 112 Education Foundation trustees voted to make the Robot Revolution a signature Foundation event beginning in the 2019-2020 school year. We are thrilled to add this program to our already robust calendar of events and pleased to have supported its growth through the grant program to its new status as a signature Foundation event.
Photo credit: Nina Lasau/LASOFOTO
Author Visit Family Night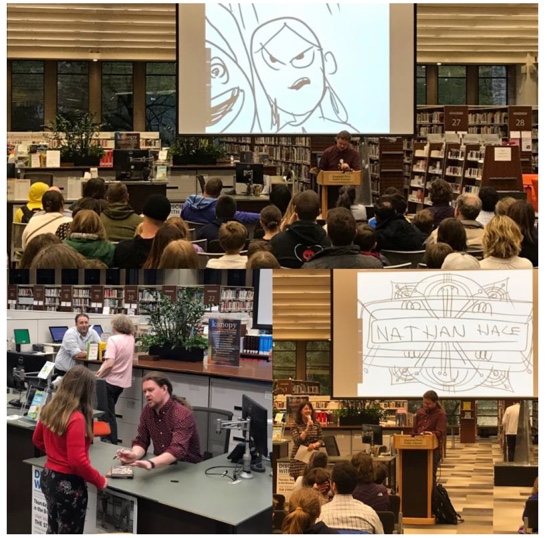 The first-ever Family Night Author Visit event with graphic novelist, Nathan Hale, was a treat for all ages. Mr. Hale, best known for his Hazardous Tales series, engaged the audience in a wonderfully told and cleverly illustrated story about Lewis and Clark's lesser-known trials on their westward journey. He brilliantly wove together important historical information with sharp wit, all the while illustrating the story onto a screen for the audience. The event was a collaborative effort, organized by a team of District 112 librarians, hosted by the Highland Park Public Library, and funded by the 112 Education Foundation. Following the success of this first-time program, we are already looking to provide similar opportunities to D112 families next year.
Vehicle Sticker Upgrade Program
The Vehicle Sticker upgrades continue to be the 112 Education Foundation's largest source of revenue, thanks to the generosity of Highland Park and Highwood residents. It is also the primary source of funding for the Foundation Grant program, bringing innovative educational opportunities to classrooms across the district. The committee is gearing up for a busy 2019-2020 school year! We will be hosting our new sticker design contest in the fall for the cities of Highland Park and Highwood. All D112 4th-8th grade students are eligible to submit their designs, celebrating the 25th anniversary of the 112 Education Foundation.
All trustees participated in sending hand-written notes to residents who upgraded their vehicle stickers to express our personal appreciation for their commitment to the Foundation and their support of D112 students.
Junior Trustees
The Foundation began its Junior Trustee program in 2017, with its first-ever junior trustee starting in January of 2018. The program grew this year with the wonderful addition of Lauren Twadell. In the spring of 2019, the selection committee decided to bring in two additional junior trustees for the 2019-2020 school year. HPHS sophomore, Abby Zucker, and junior, Nathan Kornberg, will join the Foundation beginning in August 2019. We are thrilled to have them on board. We also said goodbye to Sophie Draluck, our first junior trustee, when her two-year term ended in May. We are grateful to Sophie for the energy, enthusiasm and ideas she brought to the Foundation during her tenure and wish her the best. Junior trustees participate in Foundation meetings, support and attend our events and programs, and serve as liaisons to the HPHS community.