What Are Foundation Grants?
The 112 Education Foundation provides District 112 teachers semi-annual Foundation Grants to support creative and innovative enrichment projects. Grant cycles occur in April and October. Think of Foundation Grants as District 112's education laboratory, an opportunity to explore ideas, methods, and materials that will enhance student experiences in school. Teachers may apply for a grant individually or as a group.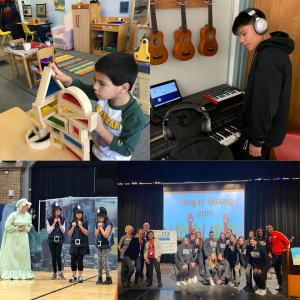 Fall 2023 Grant Information 
Fall 2023 Foundation Grant applications are due Friday, October 6 by 5pm.
Important Links:
The Fall 2023 Foundation Grant application window is open. The grant application will close on Friday, October 6. Applications are due by 5pm.
Grants are only available to North Shore School District 112 faculty.
UPDATES AS OF FALL 2022
Grants that take place during instructional time should be limited to special events and authentic one-time experiences that reinforce the District-approved curriculum. These grants will be reviewed by a District 112 Teaching and Learning representative.
Grants that take place outside of instructional time have more flexibility in their scope, but must still meet the criteria set forth in the Foundation Grant rubric.

Grant Process

 

 
Each committee member (a subset of the board) is assigned specific grants to review using the Grant Review Rubric.

Grants are discussed by the committee as a whole.

Grants under consideration that meet rubric guidelines and will occur during instructional time are reviewed with District 112 representatives.

Grants under consideration that meet rubric guidelines and will occur outside of instructional time (before school, after school, at lunchtime) are reviewed exclusively by the Foundation Grant committee.

Grants that are in compliance with district policies are presented to the 112 Education Foundation board for approval.

Written notification is provided to all grant applicants.
Grant Application Criteria
Specific, actionable, and measurable objectives
Creative and innovative approach to learning
Significant student impact
Project supports interdisciplinary learning
Reasonable and detailed budget proposal
Grant Limitations
The Foundation is unable to compensate for teachers' time or training.

Funds for parties are not permitted.

Funds for furniture are not permitted.

Requests for resources readily available in school libraries or in District will not be considered.

Technology (hardware and software) requests must be aligned with the District 112 Standards.

Curricular materials and subscriptions (magazines, etc) are not permitted.
PAST FOUNDATION GRANT WINNERS